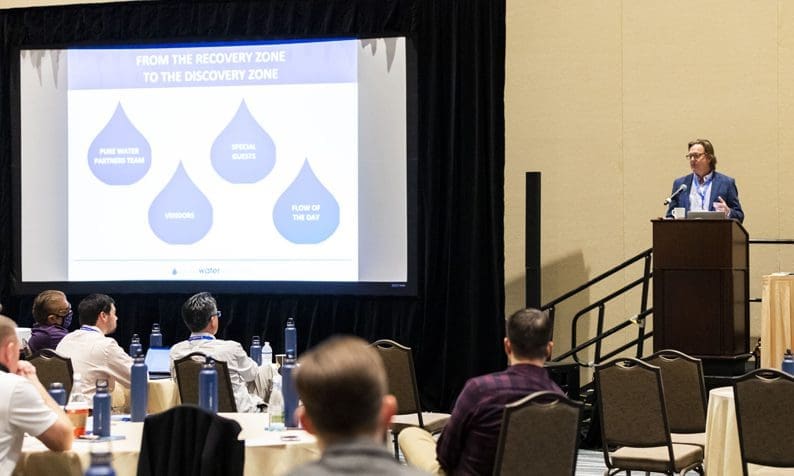 Does your bottleless water, ice, or coffee company need help with sales?
Cold-calling can be scary. We will teach you sure-fire ways to get that initial meeting.
What about securing the 7-day free trial?  We will show you how.
And renewals? Yep, we will show you how to keep your customers happy and how to build a successful enterprise.
Pure Water Partners University was designed with you, the dealer, in mind. It's designed to help you hire the right people, train them with proven sales instruction, and manage them with ease.
We've been in this business for a long time. We have made a lot of mistakes…and we learned from them. We know this comprehensive program will help take your sales force and your company to the next level.  So what's included in PWP University? Glad you asked…
10-day Onboarding Curriculum
3-day Classroom Bootcamp

Water 101
How to Make a Cold Call
How to Set an Appointment
How to Run the Intro Meeting
How to Secure a Free Trial
Role-Playing
Quizzes
Talk Track Mastery
75-Question Test
Certificate of Successful Completion
Drury Plaza Hotel Indianapolis Carmel
9625 North Meridian St
Indianapolis, IN 46290
February 7-10, 2022
Click here to book your stay for a special rate. Please make your reservations by Friday, January 28, 2022 to receive your group rate.  Reservations made after this date will be subject to prevailing rate and availability.   Reservations may also be made by calling 1-800-325-0720 and refer to your group number 2446920.
| Month | Arrival Date | First Day of Class | Last Day of Class |
| --- | --- | --- | --- |
| February | 7th | 8th | 10th |
| February/March | 28th | March 1st | 3rd |
| April | 4th | 5th | 7th |
| May | 2nd | 3rd | 5th |
| June | 6th | 7th | 9th |
| July | 11th | 12th | 14th |
| August | 1st | 2nd | 4th |
| September | 12th | 13th | 15th |
| October | 3rd | 4th | 6th |
PWP University Registration
We are now accepting registrations online!  Fill out the form below and we will contact you with a confirmation of your seat as well as arrange payment arrangement.
I have been in the bottleless water cooler business for a long time and I still learn from the Pure Water Partners team every day. They have equipped Optimum with the tools to hire the right people, manage them properly, and create incentive plans that work.  The best part of it all is the sales training provided during PWP University – it's priceless!
Read a Little, Learn A Lot
We are continuously looking at what
makes the water industry great. Grab a glass of pure water and join us on the journey.
After spending the past 15 years in the bottleless water industry, I've learned that one key activity is offering a free trial. Yes, offering a free trial on a [...]
Compensation philosophies have always intrigued me in the bottleless water industry. I've learned that any 10 dealer principals will all have a different formula for coming up with the same [...]
Before entering the finance space, we were successful operators. We have extensive knowledge in this field and work exclusively in the bottleless water, ice, and coffee industry.
We give our dealers time tested and proven go-to-market strategies that work. We help dealers hire, onboard, and train sales teams through our exclusive PWP University. And we teach dealers how to inspect what you expect from their teams.